PAUCam commissioning and first light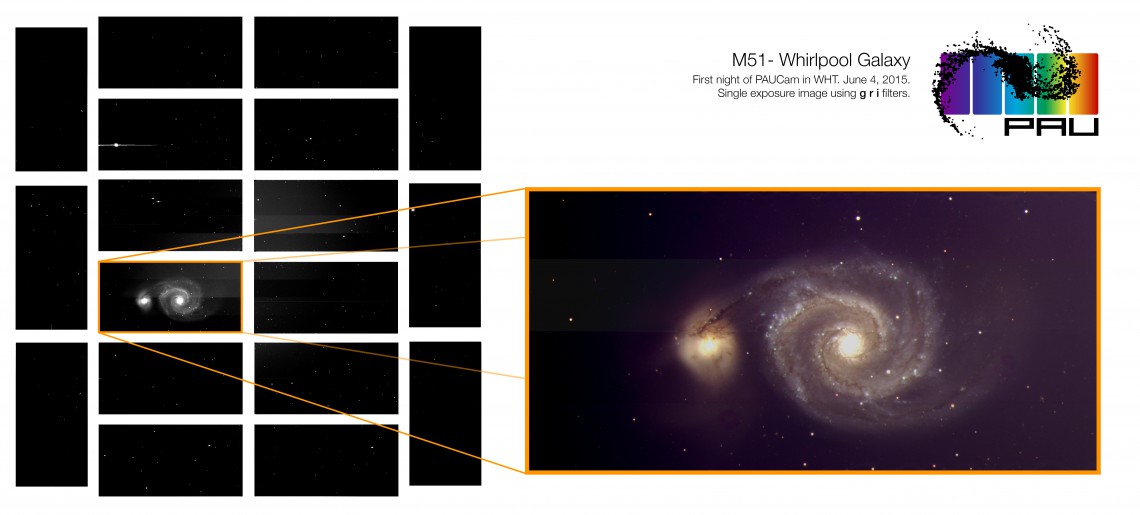 Galaxy M51, known as the Whirlpool galaxy, situated at about 23 million light years from Earth. (Image acquired June 6th, 2015)
Galaxia M51, conocida como la galaxia del remolino, situada a unos 23 millones de años luz de la Tierra. (imagen captada el 6 de junio de 2015)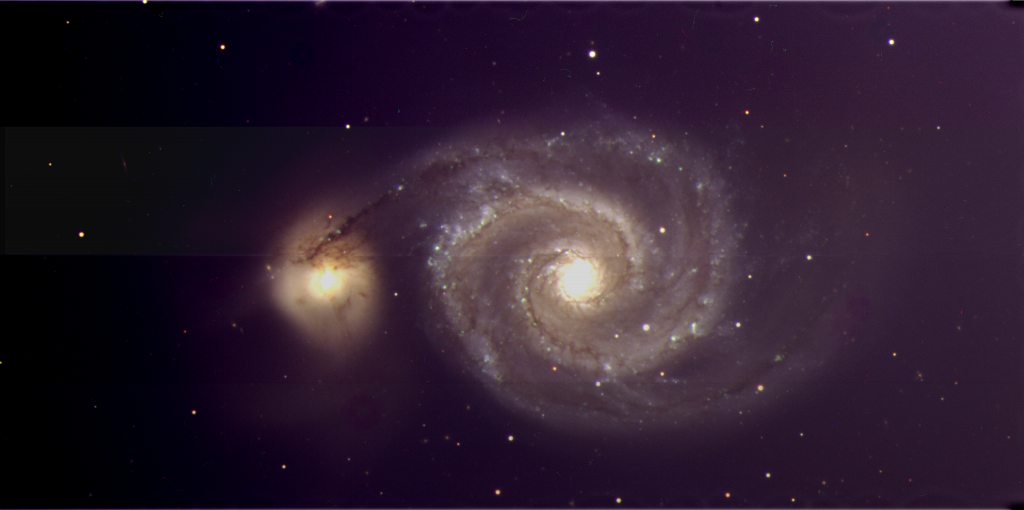 ---
Planetary nebula M27, known as the Dumbbell Nebula, situated in our own galaxy, the Milky Way, at a distance of about 1000 light years from Earth. (Image acquired June 3rd, 2015)
Nebulosa planetaria M27, también conocida como "Dumbbell" o M27 del catálogo de Messier, situada en nuestra propia galaxia, la Vía Láctea, a unos 1000 años luz de la Tierra. (imagen captada el 3 de junio de 2015)
---
The preliminary enhanced images shown were built by combining exposures taken with three filters of different colours. PAUCam's science images will be taken with 40 filters, a unique feature of this instrument.
PAUcam's 18 CCD sensors give a very wide field of view, as can be seen in the following image. PAUcam's analysis software will combine these data into a single high resolution image of the whole field of view.
Las imágenes realzadas han sido generadas combinando exposiciones con tres filtros de diferentes colores. Las imágenes científicas de PAUCam serán tomadas con 40 filtros, una característica única de este instrumento.
Los 18 sensores CCD de PAUcam dan como resultado un amplio campo de visión, como se puede ver en la siguiente imagen. El software de análisis de PAUcam combinará estos datos para generar una única imagen de alta resolución de todo el campo de visión
---
Photograph of the PAUCam instrument mounted in the prime focus of the William Herschel Telescope (operated by the Isaac Newton Group) situated in the Observatorio del Roque de los Muchachos of the Instituto de Astrofísica de Canarias, in La Palma, Canary Islands, Spain.
Fotografía del instrumento PAUCam montado en el foco primario del telescopio William Herschel (operado por el Isaac Newton Group) situado en el Observatorio del Roque de los Muchachos del Instituto de Astrofísica de Canarias, en La Palma, Canarias, España.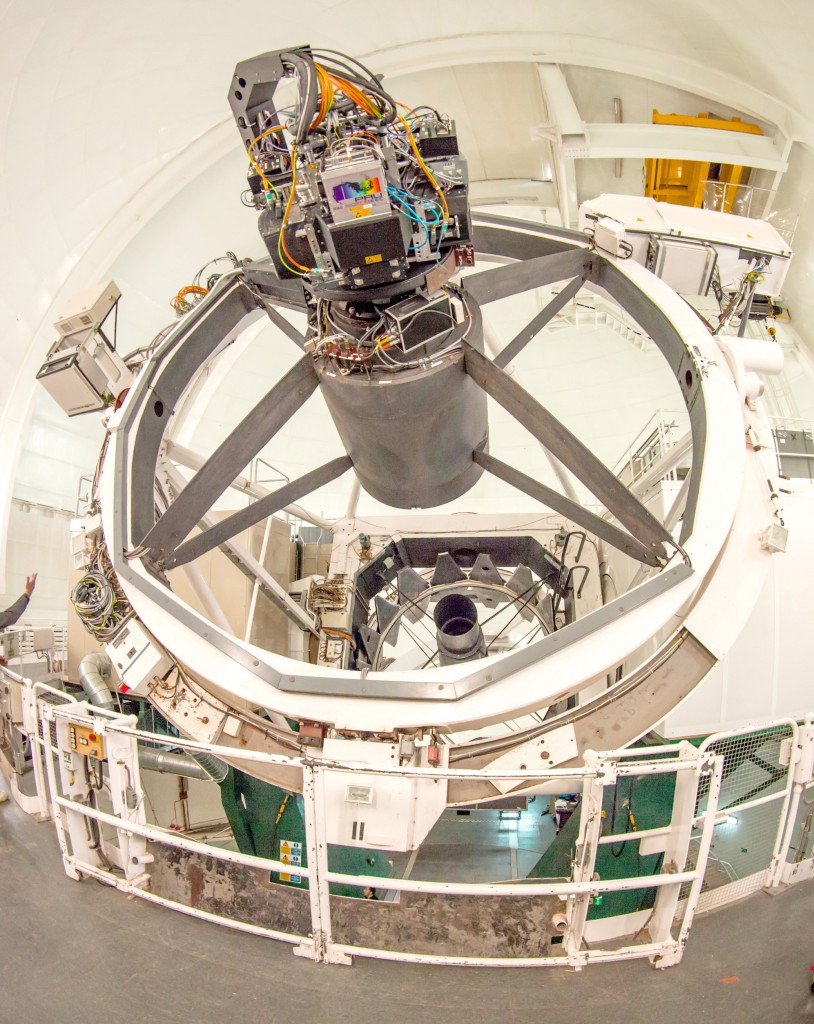 ---
Technical specifications
Telescope with 4.2 meter diameter mirror
PAUCam projects 1deg x 1deg on sky (about 1deg diameter FoV)
18 CCDs each 4000×2000 pixel from Hamamatsu
40 narrow-band filters in range 450nm to 850nm (13 nm wide, in steps of 10nm)
6 wide-band filters: u, g, r, i, z, Y
---
PAUCam has been designed and built by a Consortium of Spanish Institutions (in alphabetical order: CIEMAT, ICE-CSIC/IEEC, IFAE, IFT/UAM, and PIC). The project was funded by the Consolider Ingenio 2010 programme of the Spanish Government.PAUCam ha sido diseñada y construída por un consorcio de institutos de investigación españoles (en orden alfabético: CIEMAT, ICE-CSIC/IEEC, IFAE, IFT/UAM, y PIC). El proyecto ha sido financiado por el programa Consolider Ingenio 2010 del Gobierno de España.
All material is Copyright © 2015 Physics of the Accelerating Universe (PAU)
Permission is given to use material for press coverage
Click to download high resolution images / Pinche para descargar imágenes de alta resolución.